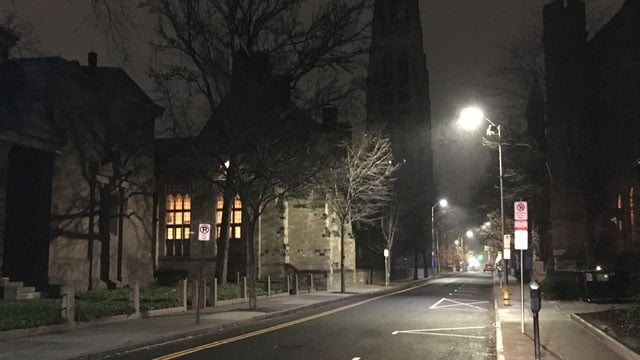 Flakes began flying in New Haven in the 5 a.m. hour. (WFSB photo)
NEW HAVEN, CT (WFSB) -
Cities like New Haven have been preparing for Winter Storm Chris just like every other municipality in the state.
Snow began falling in the Elm City during the 5 a.m. hour.
The city activated its blue lights along the streets to indicate that a parking ban is in effect.
Officials said odd-side street parking is prohibited. Drivers can only park on the even sides of the streets.
After the storm, a downtown parking ban goes into effect at 11 p.m. on Thursday.
Parking was also prohibited in school lots so crews to clear those areas for school on Friday, according to New Haven's emergency management director Rick Fontana.
They said the bans are to help with snow removal.
A number of parking garages are available at reduced rates.
The city said it will have 60 trucks working to clear the streets.
Crews have already been out pretreating the roads.
Track the storm with Early Warning Pinpoint Doppler here.
Copyright 2017 WFSB (Meredith Corporation). All rights reserved.