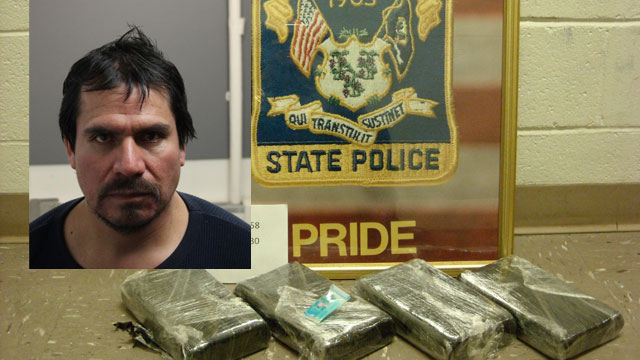 Luis Palacios, of Waterbury, was arrested after four kilos of cocaine during a motor stop in Waterbury. (CT State Police)
WATERBURY, CT (WFSB) -
Connecticut State Police seized four kilos of cocaine during a motor stop in Waterbury on Monday evening.
Police charged 43-year-old Luis Palacios, of Waterbury, with the possession of a narcotic, illegal sale of drug by non- drug dependant person, failure to wear a seatbelt, failure to drive in a proper lane, and operating a motor vehicle without a valid license.
The arrest of Palacios started after a police officer noticed that he was not wearing his seat belt in his 2002 blue Dodge Durango on Hamilton Avenue around 6:45 p.m.
The officer followed the Durango onto the eastbound side of Interstate 84 when police said the vehicle swerved into the right shoulder over the fog line once.
The Durango was stopped on the exit 25a off ramp where police said they found the cocaine in a bag in the back seat.
Palacios was being held on a $250,000 bond. He was expected to be arraigned at Waterbury Superior Court on Tuesday
Copyright 2017 WFSB (Meredith Corporation). All rights reserved.