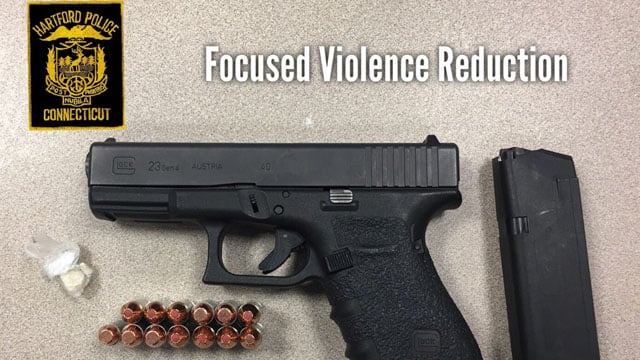 (Hartford police photo)
HARTFORD, CT (WFSB) -
A report of a man having a loaded gun in Hartford led to a covert operation to take him into custody.
Police said they arrested 25-year-old Edward Perry of Palm Coast, FL on a number of charges.
They said detectives received the report on Tuesday and were able to find Perry in the Greenfield Street area.
They conducted covert surveillance in the area and followed a vehicle in which Perry was traveling.
The driver pulled into a parking lot in the area of 41 Greenfield St. and that's when detectives said they made contact with Perry. Perry was found to be the driver.
Police said a fully loaded .40 caliber Glock 23 handgun with 13 live rounds was seized over the course of the investigation. Eight tenths of a gram of crack cocaine was also found.
Perry's passenger, 25-year-old Keano Jones, was found have 3.5 grams of marijuana on him. He was issued a complaint ticket and released.
Perry was charged with possession of a pistol without a permit, weapons in a motor vehicle, possession of a high capacity magazine and possession of narcotics.
Copyright 2017 WFSB (Meredith Corporation). All rights reserved.