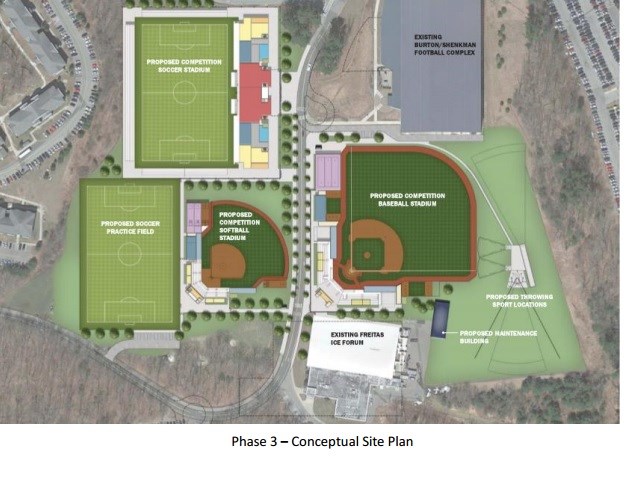 Proposed UConn facilities upgrades (Contributed).
STORRS, CT (WFSB) -
The University of Connecticut board of trustees will vote Wednesday on a plan to improve the school's athletic facilities.
The board will be voting on multi-million dollar improvements which include new fields and stadiums on the Storrs campus.
Fans of the programs would end up footing most of the bill through ticket surcharges; however, the vote on Wednesday for $5 million of it would come from the university.
The total price tag for these proposed facilities comes in at $46 million. The school has raised $15 million and plans to pool another $10 million in donor dollars.
An architect's rendering gave people an idea of the concept. Each of these buildings and fields are located just above Freitas ice forum.
UConn's sports facility efforts are part of a 2015-2035 master plan to replace outdated arenas and fields as well as add seating which could help attract top-level student athletes.
The additional money from ticket surcharges would involve admissions to football, basketball, hockey and soccer. The money could range from $1-$5.
This means fans would end up paying about $21 million for the new facilitates.
Copyright 2017 WFSB (Meredith Corporation). All rights reserved.