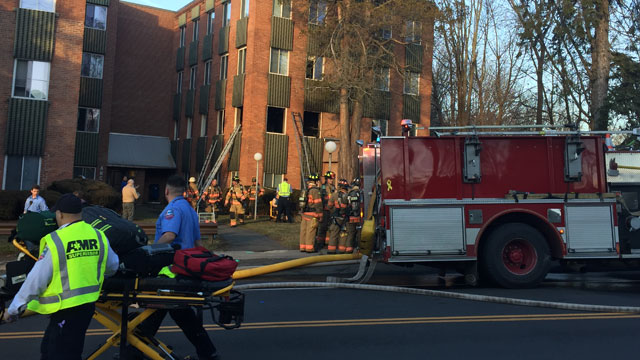 One tenant has died after a fire at an elderly complex in Wallingford on Friday evening. (WFSB)
WALLINGFORD, CT (WFSB) -
A woman who was taken to the hospital Friday after a senior housing complex in Wallingford caught fire has died.
Wallingford police confirm he woman died overnight, but have not identified her at this time.
The victim, who was a tenant of the Silver Pond Apartments on Center Street, was taken to the hospital after rescue crews responded to a fire at the complex.
Police said an autopsy will be done Saturday to determine her cause of death. Officials do expect to release more details later in the day.
Additionally, over a dozen other tenants were displaced and staying in temporary housing officials said.
An witness told WFSB he heard an explosion, however, police said the cause of the fire is still under investigation.
Copyright 2017 WFSB (Meredith Corporation). All rights reserved.