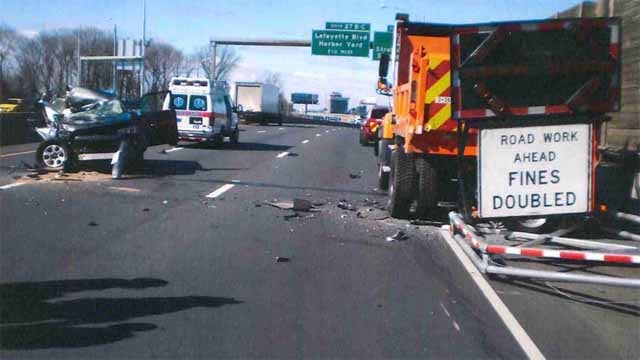 An SUV hit a DOT truck on Sunday morning on I-95 in Bridgeport (CT State Police)
BRIDGEPORT, CT (WFSB) -
A driver is facing charges after crashing into a state Department of Transportation truck on the highway Sunday morning.
Connecticut State Police said the DOT truck was parked on the right shoulder of I-95 south just before exit 29 in Bridgeport, that had it's emergency lights on.
A Toyota 4Runner approaching the construction zone and drifted into the right shoulder, hitting the DOT truck.
The driver was sitting in the DOT truck at the time of the crash.
Police said there was heavy damage to all vehicles involved, but thankfully only minor injuries were reported.
Troopers said this is an example of why the state's Move Over Law is necessary.
The driver was charged with failure to obey the law, distracted driving, and following too closely. The driver was also charged with operating with an out of state license while being a Connecticut resident.
Copyright 2017 WFSB (Meredith Corporation). All rights reserved.