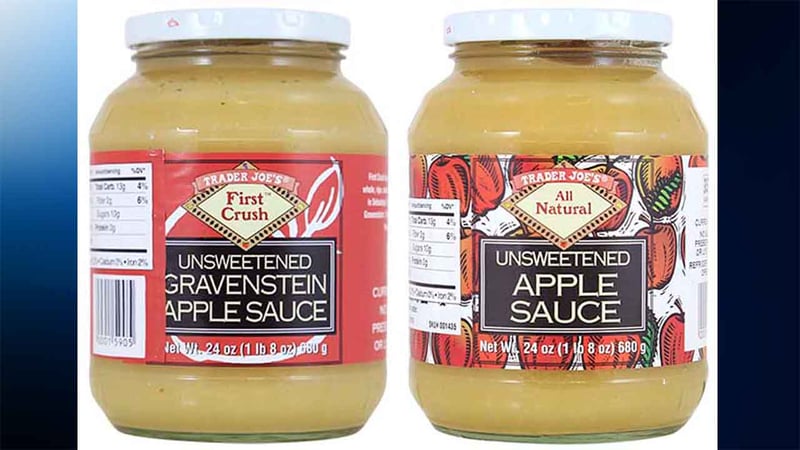 (FDA.gov photos)
(WFSB) -
A company is recalling several kinds of applesauce because of something that could be found in it.
The Manzana Products Company, which sells the applesauce at Trader Joe's, said glass pieces may be in the jars.
Two of the three varieties involved in the recall were sold in Connecticut.
The recall includes:
Trader Joe's Organic Unsweetened Apple Sauce - UPC 00194877 - All codes through Oct. 6., 2018 (Sold in CT)
Trader Joe's First Crush Unsweetened Gravenstein Apple Sauce - UPC 00015905 - All codes through Aug. 8, 2018 (Sold in CT)
Trader Joe's All Natural Unsweetened Apple Sauce - UPC 00014359 - All codes through Dec. 16, 2018
Manzana Products said the applesauce is packaged in a 24 oz glass jar. The "best before" date is stamped on the top of the lid.
It said the recall was launched after it received customer reports of glass found in some of the products.
All of the products have been removed from store shelves.
Anyone who may have purchased the listed jars can return them to Trader Joe's for a full refund.
Customers who have questions about the recall can call Manzana Products at 707-823- 5313, 8 a.m. to 5 p.m., Pacific Standard Time, Monday through Friday.
More information can also be found on the Food and Drug Administration's website here.
Copyright 2017 WFSB (Meredith Corporation). All rights reserved.