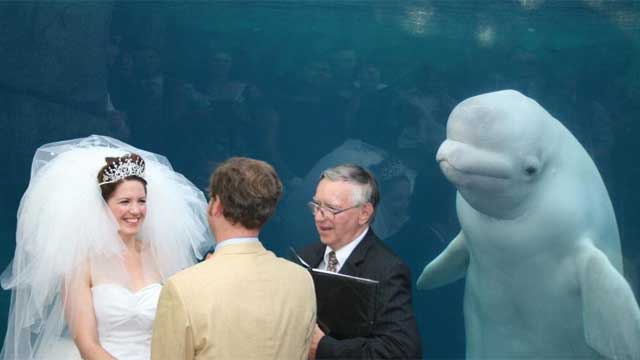 Beluga whale photobombs Connecticut wedding and has become an Internet sensation. (FishMcBite)
MYSTIC, CT (WFSB) -
An unexpected guest at a wedding in Connecticut is getting the social media spotlight.
The proceedings took place at the Mystic Aquarium in Mystic when a beluga whale known as Juno photobombed the wedding.
The picture was taken by Reddit user FishMcBite, who added the image on r/Photoshopbattles. To see the photo, click here.
The picture took over social media and was posted to local and national news sites.
This beluga whale has previous made headlines in Connecticut when he photobombed Gov. Dannel Malloy in September 2015. The governor was promoting tourism during a press conference at the Mystic Aquarium.
To read the full article, click here.
Copyright 2017 WFSB (Meredith Corporation). All rights reserved.