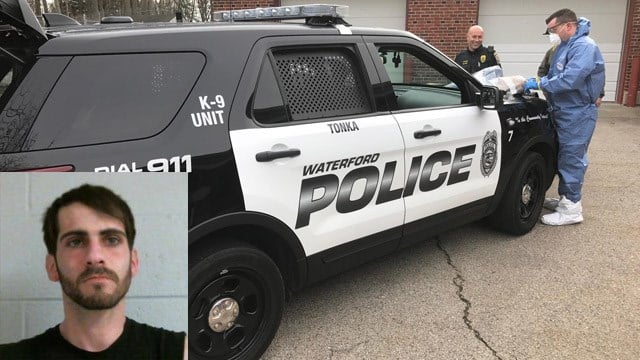 Nicholas Constantine was arrested after an officer was exposed to fentanyl from heroin. (Waterford police photos)
WATERFORD, CT (WFSB) -
A Waterford police officer had to be treated for fentanyl exposure following a drug bust on Monday.
The officer stopped a vehicle driven by Nicholas Constantine of Charlestown, RI on Route 85 following a traffic violation.
While searching the vehicle, the officer came into contact with the fentanyl, with which the suspect's heroin was cut.
After the exposure, the officer complained of feeling light headed, sick and having an elevated heart rate.
Fearing an overdose, police called an ambulance to bring him to the hospital.
The officer was tested and ultimately released.
Police said he was back to work.
Constantine was arrested and charged with possession of a controlled substance, having drug paraphernalia, unauthorized manufacture of drugs and failure to drive in a proper lane.
He was released on a $15,000 bond and scheduled to face a judge.
Copyright 2017 WFSB (Meredith Corporation). All rights reserved.