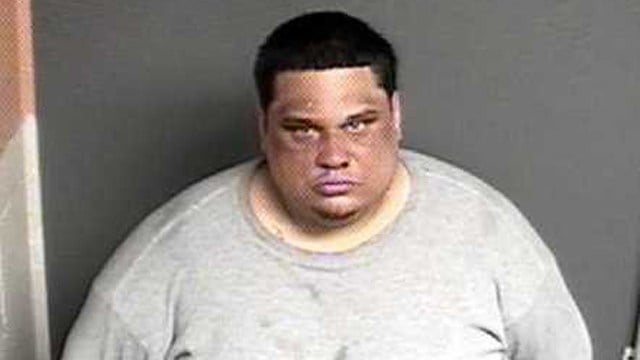 Adrian Figueroa stole a Jaguar and engaged a trooper in a pursuit in Waterbury, according to state police. (State police photo)
WATERBURY, CT (WFSB) -
A trooper parked along Route 8 in Waterbury noticed a red Jaguar speeding past him and determined that it had been stolen.
A pursuit eventually led to the arrest of 36-year-old Adrian Figueroa of Waterbury.
The pursuit began just south of exit 36 on the southbound side of the highway around 4:15 p.m. on Wednesday.
State police said it reached speeds of 115 miles per hour.
Figueroa got off the highway at exit 30 and drove onto Charles Street where he sideswiped a SUV, troopers said.
The driver in the SUV complained of minor injuries and was sent to Waterbury Hospital for treatment.
The Jaguar was heavily damaged at that point. Figueroa then struck a parked car and stopped.
State police learned that the car had just been stolen out of Waterbury.
Figueroa was taken into custody and charged with second-degree larceny, first-degree reckless endangerment, engaging in a police pursuit, reckless driving and operating a motor vehicle without a license.
He was held on a $50,000 bond and scheduled to appear in Waterbury Court on Thursday.
Copyright 2017 WFSB (Meredith Corporation). All rights reserved.