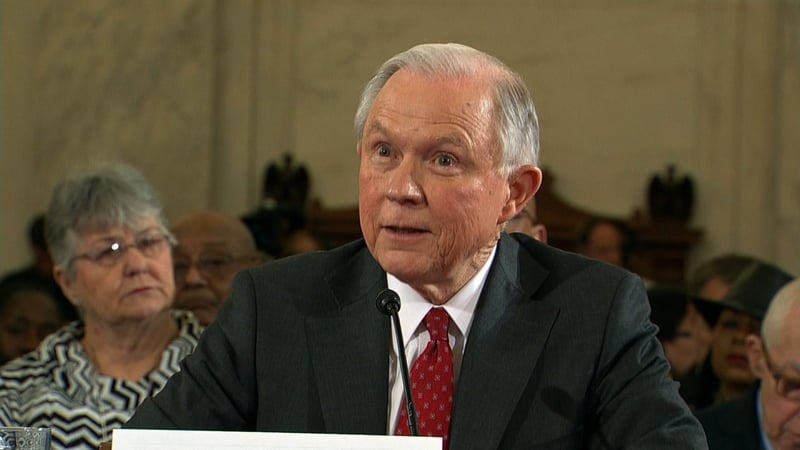 Attorney General Jeff Sessions met twice in 2016 with the top Russian diplomat in Washington whose interactions with President Donald Trump's former national security adviser Mike Flynn. (AP File)
WASHINGTON (WFSB) -
Members of the Connecticut Delegation are calling for a criminal investigation into Attorney General Jeff Sessions.
Lawmakers said they want the investigation because Sessions met with the Russian ambassador last year despite his testimony to the contrary before the Senate Judiciary Committee.
"Attorney General Sessions' sworn testimony that he 'did not have communications with the Russians' is at best misleading – if not untrue. At a minimum, he must recuse himself from the ongoing investigation into the Trump campaign's ties to Russian officials, and that investigation must include a close examination of Attorney General Sessions' actions. Moreover, the continuing revelations underscore the need for a special prosecutor to assure public confidence in the integrity of this very serious investigation," Congresswoman Elizabeth Esty (CT-5) said in a statement on Thursday.
Esty went on to say if Sessions was "unable to provide a more credible explanation for his statements and actions involving the Russians in the course of this investigation" that he should resign from his position as Attorney General.
U.S. Sen. Richard Blumenthal tweeted he has "called repeatedly for independent prosecutor" and "now there is no question possible perjury&other criminal violations demand it."
Unless, Blumenthal said Sessions "can provide a credible explanation, his resignation will be necessary."
U.S. Sen. Chris Murphy tweeted if it is not illegal to for a Senator to speak with the Russian Ambassador, then why would Sessions lie about it.
Copyright 2017 WFSB (Meredith Corporation). All rights reserved.