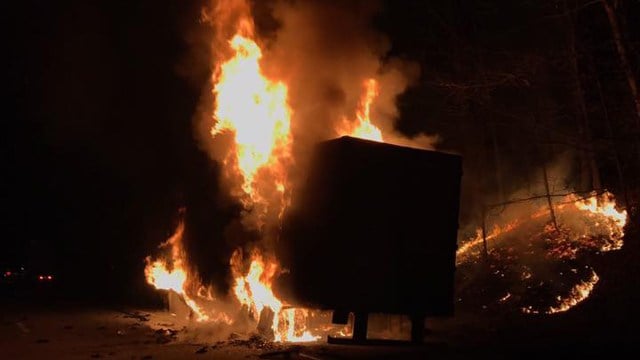 (Quinebaug Valley Emergency Center photo)
PLAINFIELD, CT (WFSB) -
A tractor trailer fire closed the southbound lanes of Interstate 395 south in Plainfield on Sunday night.
According to officials, the fire was reported around 6:45 p.m. just south of exit 29.
When firefighters arrived, they said they encountered a fire in the trailer portion of the vehicle.
The driver of the vehicle was able to separate the trailer portion from the rest of the vehicle and reported no injuries.
Officials said the truck was carrying bottled water.
Department of Transportation crews were requested to to the scene to treat the roads. Ice built up on them during fire fighting efforts.
The fire was knocked down by 7:10 p.m. and crews cleared the scene around 9:45 p.m.
Copyright 2017 WFSB (Meredith Corporation). All rights reserved.