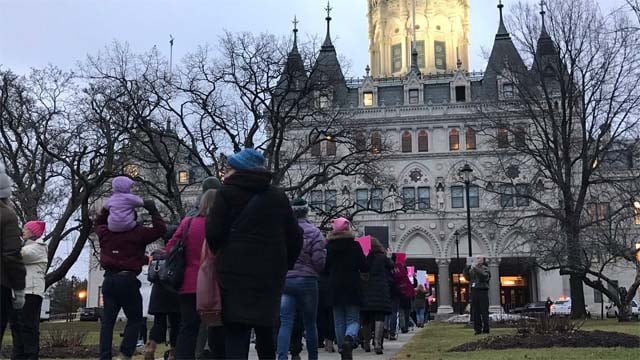 Women marched at the state capitol last month (WFSB)
HARTFORD, CT (WFSB) -
U.S. Sens. Jeanne Shaheen of New Hampshire and Susan Collins of Maine are leading a coalition of senators on a resolution commemorating the achievements of women around the world in recognition of International Women's Day.
Shaheen, a Democrat, said Wednesday that women and girls make up 51 percent of the population yet are consistently underrepresented in government, economically disenfranchised and faced with social barriers. Collins, a Republican, says women have blazed trails and broken barriers.
The resolution was co-sponsored by Democratic Sens. Sheldon Whitehouse of Rhode Island; Robert Menendez of New Jersey; Chris Coons of Delaware; Kirsten Gillibrand of New York; Tammy Baldwin of Wisconsin; Dick Durbin of Illinois; Ben Cardin of Maryland; Chris Murphy of Connecticut; Ed Markey of Massachusetts; and Maria Cantwell and Patty Murray of Washington.
Copyright 2017 The Associated Press. All rights reserved. This material may not be published, broadcast, rewritten or redistributed.