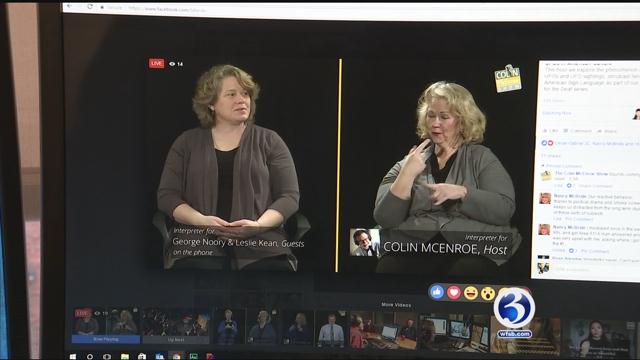 Sign language interpreters helped the deaf to listen to be a part of a Connecticut radio program. (WFSB)
HARTFORD, CT (WFSB) -
WNPR found a way for the deaf to listen to be a part of a radio program.
Colin McEnroe got ready namesake show on Tuesday that was listened to across Connecticut and beyond. Tuesday's topic was UFOs.
Ordinarily the deaf and those hard of hearing couldn't enjoy this conversation. But, Facebook changed that
"We realized that Facebook live made it relatively easy to push video up to Facebook," McEnroe said.
With the help of the American School for the Deaf in West Hartford, WNPR brought in sign language interpreters and streamed the radio show live on Facebook.
Through Facebook deaf followers of WNPR could write in their comments.
McEnroe realizes this is a huge step for a segment of the population often ignored.
McEnroe has only done three of these shows so far, but plans on doing more. He added the reaction has been positive.
Copyright 2017 WFSB (Meredith Corporation). All rights reserved.