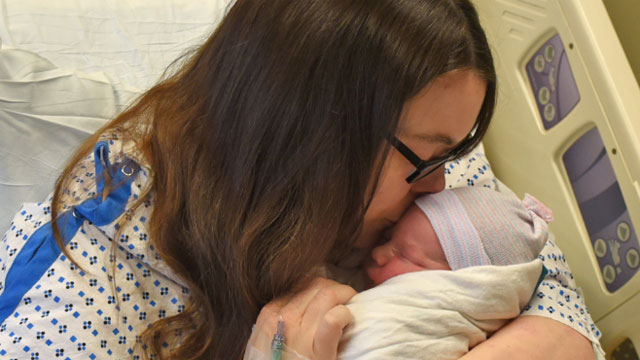 A baby was born at a Connecticut hospital during Blizzard Eugene. (Backus Hospital)
NORWICH, CT (WFSB) -
A baby was born at a Connecticut hospital during Blizzard Eugene.
The Hardee family, of North Stonington, welcomed their third child Harrison Everett at Backus Hospital during the height of the storm on Tuesday morning.
Lisa Hardee said the birth of Harrison has been stressful for their family. Lisa's husband Joseph is in the navy and is currently out to sea. Lisa Hardee had a planned C-section scheduled during the storm.
Lisa's father, who lives near Backus Hospital, drove here there on Monday evening. Harrison arrived right on schedule around 8:30 a.m.
"The staff was wonderful. Everyone was so accommodating," Hardee said in a release on Tuesday.
Harrison weighed in at 7lbs, 1oz. He hasn't met his sisters, who is 4 years old and 6, years old, yet.
Lisa Hardee said she is "hopeful the roads will be clear enough for her parents to bring them for a visit in the morning."
Copyright 2017 WFSB (Meredith Corporation). All rights reserved.