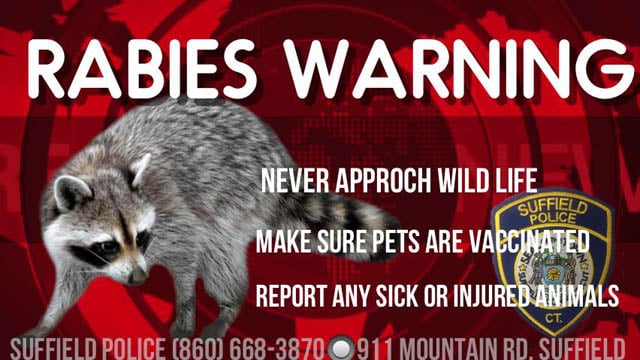 (Suffield police Facebook photo)
SUFFIELD, CT (WFSB) -
Reports of two dogs being bitten by a raccoon in Suffield prompted police to issue a warning about rabies.
Police said the reports were separate and were made on Monday.
They happened in the Copper Hill Road as well as the Pine Road and Lake View Drive areas of West Suffield.
A raccoon was sent to a state laboratory for testing and tested positive for the rabies virus.
"We'd like to remind residence to never approach wild animals, especially those that look to be sick or injured," police warned.
Anyone who notices odd animal behavior should contact police at 860-668-3870.
Police also advised pet owners to make sure their pets are up-to-date with vaccines.
More information about rabies in Connecticut can be found on the Department of Energy and Environmental Protection's website here.
Copyright 2017 WFSB (Meredith Corporation). All rights reserved.