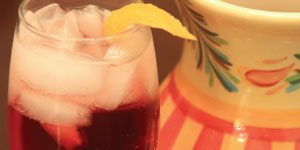 One of the mocktails from AAA is the Pomegranate Spritzer. (AAA)
HARTFORD, CT (WFSB) -
AAA is helping provide some delicious alternatives for designated drivers this March Madness.
One of the drinks, they have designed is called the pomegranate spritzer.
Here are the ingredients:
2 cups of ginger ale
1 cup of pomegranate
1 cup of seltzer
garnish with lemon twist
To make the drink:
In a pitcher, combine ginger ale and pomegranate juice.
Fill wine glasses with ice.
Divide liquid among glasses, leaving room to top with seltzer.
Peel lemon rind with vegetable peeler.
Rub lemon twist on edge of glass and drop in.
To see the full brochure from AAA on mocktails and ways to stay safe this March Madness, click here.
Copyright 2017 WFSB (Meredith Corporation). All rights reserved.