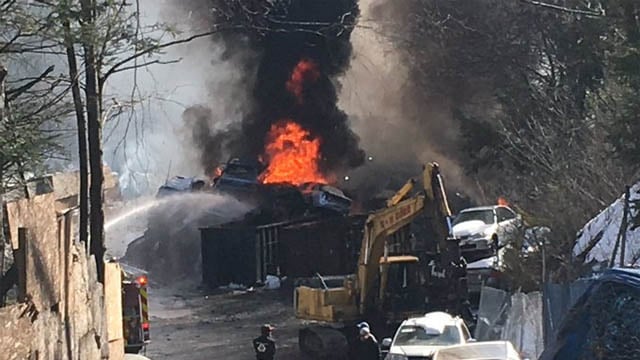 Crews worked to put out a fire at a salvage yard in Waterbury (WFSB)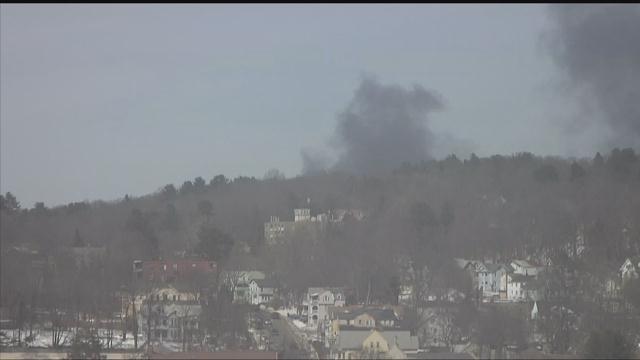 Smoke could be seen for miles after a fire in Waterbury on Monday afternoon. (WFSB)
WATERBURY, CT (WFSB) -
Smoke could be seen miles away from a fire at a salvage yard in Waterbury on Monday afternoon.
The fire was reported at Brookside Auto Salvage in Waterbury on Greystone Road Extension around 2:15 p.m. It's located on the Plymouth line.
Waterbury's fire chief said it started when a worker tried using a power saw to cut a gas tank out of a car and fumes in the tank ignited.
"It appears the preliminary report is that an employee of the scrapyard was trying to cut a gas tank with a sawzall, apparently the sawzall sparked the metal and whatever fumes were in the tank ignited. Certainly we don't recommend that people do that for obvious reasons as a result. Fortunately the individual was not injured, which is a miracle in and of itself," Waterbury Fire Chief David Martin said.
The fire engulfed a pile of abandoned vehicles and old metal scrap. There were no structures involved or close by.
Crews were having a challenging time getting their equipment and trucks down the dirt road, as it is muddy. Terryville and Plymouth fire crews were assisting.
There were no injuries reported.
There was a lot unknown to firefighters, including propane tanks, tires and magnesium that could explode. Firefighters were trying to keep a safe distance back while fighting the fire.
Stay with Eyewitness News on air and online for updates.
Copyright 2017 WFSB (Meredith Corporation). All rights reserved.