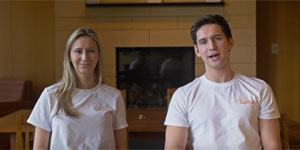 Maggie Morse and Liam McClintock have launched the Indiegogo campaign for SunUp what they are calling "the best defense against a hangover."
NEW HAVEN, CT (WFSB) -
Two Yale University students are the co-founders of a project that has developed a supplement that cure the common hangover.
Maggie Morse and Liam McClintock have launched the Indiegogo campaign for SunUp what they are calling "the best defense against a hangover."
Morse, who is a developmental biology major at Yale, and McClintock, who is a division 1 athlete, said the supplement "helps restore balance and function to the body" that allows "it to return to normal after a night of drinking by attacking the four underlying causes of hangover symptoms." The four causes of a hangover are acetaldehyde buildup, glutamine rebound, immunologic disturbances, and vitamin and electrolyte loss.
To see how their supplement works on your mobile device, click here.
To read their full story, click here.
Copyright 2017 WFSB (Meredith Corporation). All rights reserved.