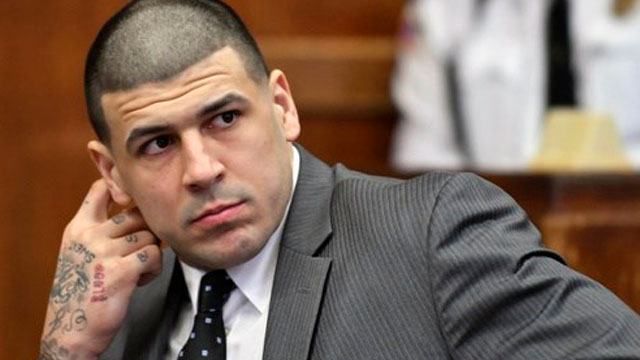 Former New England Patriots player Aaron Hernandez appears in Suffolk Superior Court. (Josh Reynolds/The Boston Globe via AP, Pool, File).
BOSTON (AP) -
A lawyer for former NFL star Aaron Hernandez has aggressively questioned the prosecution's star witness against Hernandez in his double-murder trial.
Attorney Jose Baez grilled Alexander Bradley on Tuesday about his claim that Hernandez killed two men after one of them accidentally spilled his drink at a Boston nightclub in 2012. Bradley said Hernandez opened fire while Daniel de Abreu and Safiro Furtado waited at a stoplight.
Under cross-examination, Bradley acknowledged that he has sold drugs for about 17 years. Baez contended during opening statements that Bradley - not Hernandez - shot the men over a drug deal.
Bradley and Hernandez were once close friends. Hernandez is also charged with witness intimidation and accused of shooting Bradley in the face because he feared Bradley would tell authorities about the slayings.
Copyright 2017 The Associated Press. All rights reserved. This material may not be published, broadcast, rewritten or redistributed.