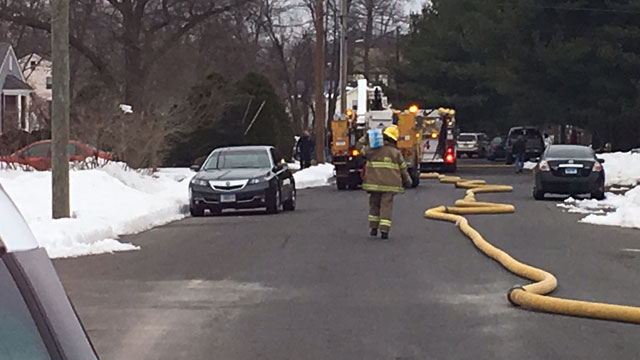 Firefighters are battling a fire at a condo complex in Plainville on Friday. (WFSB)
PLAINVILLE, CT (WFSB) -
The roof of a condominium in Plainville collapsed on Friday morning.
It broke out at a unit at Milford Manor on Milford Street Extension around 10:20 a.m.
Fire officials said no one was hurt during the fire and everyone escaped safely. However, one young woman was taken to the hospital as a precaution, according to Plainville Fire Chief Kevin Toner.
Toner said the main brick structure to the complex kept the fire from spreading beyond unit A-5.
"There is some damage to the three units. But the fire didn't actually enter the complex," Toner said.
Toner said the cause has not yet been determined. Fire officials said they hope drone video they shot can help in the investigation.
Refresh this page and watch Eyewitness News for updates.
Copyright 2017 WFSB (Meredith Corporation). All rights reserved.