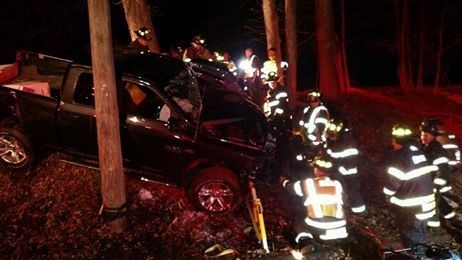 Scene of an overnight crash on Burlington Avenue in Bristol (Bristol Fire Department Facebook page)
BRISTOL, CT (WFSB) -
The driver of a pickup truck suffered serious injuries during a crash in Bristol late Friday night.
Bristol police said the crash occurred just after 10 p.m. on Burlington Avenue near Elanie Drive.
When officers arrived they found the truck which had been heading northbound on Burlington Avenue when it crossed the centerline and struck a utility pole on the opposite side of the ride.
The force of the collision snapped the pole and caused extensive damage to the truck. Bristol firefighters spent a prolonged time working to safely extricate the driver form the vehicle.
Police said the driver suffered serious head and leg injuries and was flown to Hartford Hospital by Lifestar helicopter. They are expected to survive their injuries though, police said.
The cause of the crash remains under investigation, police are asking anyone who may have witnessed the crash to contact them at 860-584-3011.
Copyright 2017 WFSB (Meredith Corporation). All rights reserved.