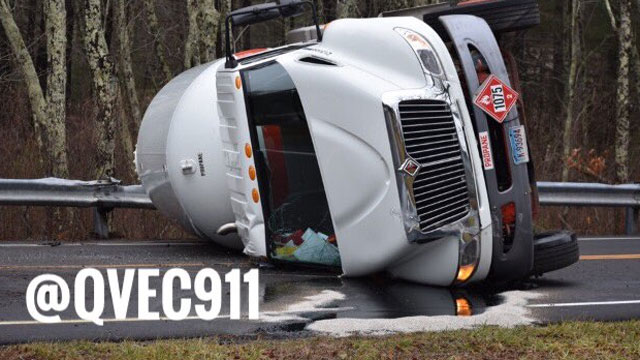 A propane tanker rolled over in Voluntown and the crash caused authorities to close Route 49. (Voluntown Fire Department)
Voluntown, CT (WFSB) -
A propane tanker rolled over in Voluntown and prompted officials to close a road on Tuesday morning.
Four homes were also evacuated in the area.
According to dispatchers, the rollover happened on Route 49. The road was closed because the Voluntown Fire Department said it was too dangerous.
Dispatchers said the truck is not leaking and no one was hurt.
Route 49 reopened around 3 p.m.
The Department of Energy and Environmental Protection responded to the scene along with the Department of Transportation.
Eyewitness News was on the scene.
Copyright 2017 WFSB (Meredith Corporation). All rights reserved.