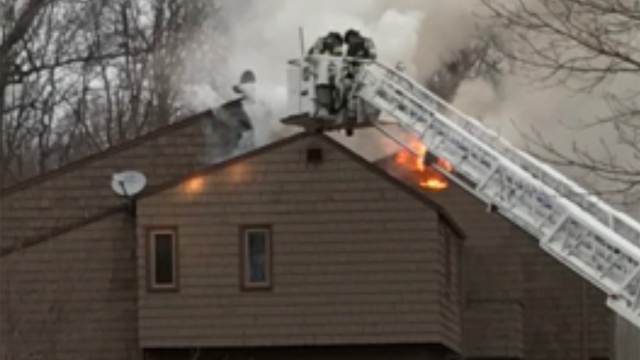 (Hamden Fire Dept. photo)
HAMDEN, CT (WFSB) -
A fire in Hamden forced people living in six town houses to flee their homes on Thursday.
According to firefighters, the fire broke out around 6:30 p.m. on Townhouse Road.
They said they received a number of 911 calls about it.
When firefighters arrived, they said they saw heavy smoke and flames coming from a gable vent and attic area of a unit.
Crews searched the building for anyone inside but found no one.
While battling the flames inside, sections of the second floor ceiling became unstable. However, no firefighters were hurt.
Firefighters determined that the fire originated from unit number 154. However, its origin has yet to be uncovered.
The unit was deemed uninhabitable by Hamden's building inspector.
Other units on the first floor suffered water damage.
The American Red Cross is helping the residents who were forced out.
Copyright 2017 WFSB (Meredith Corporation). All rights reserved.