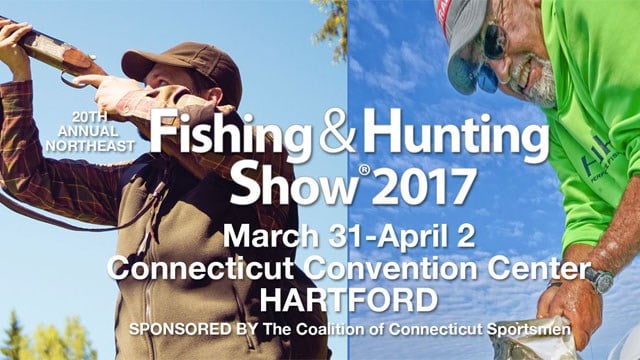 (fishinghuntingshow.com photo)
HARTFORD, CT (WFSB) -
Hunters and fishermen alike will be descending on Hartford this weekend for a hunting and fishing show.
The 2017 Northeast Fishing & Hunting Show, sponsored by GMC, started Friday and runs through Sunday at the Connecticut Convention Center.
Patrons can meet a variety of experts as well as stars of a few fishing and hunting television shows.
"With the start of spring, fishing and hunting enthusiasts are gearing up for the outdoor season, so Connecticut's only Fishing & Hunting show will be a terrific place to speak with knowledgeable sportspeople and get useful and timely equipment, advice and ideas," said Kristie Gonsalves, president of North East Expos. "Attendees will be able to speak and schedule tours with charter boat captains, watch expert fly fishing casting and fly tying shows, see live pointing dogs and birds of prey, and enjoy lots of interactive activities."
Hours include:
Friday, March 31 from 12 noon to 8 p.m.
Saturday, April 1 from 10 a.m. to 7 p.m.
Sunday, April 2 from 10 a.m. to 5 p.m.
The show's Veterans Appreciation Day will be on Saturday when the first 200 U.S. veterans or active military in line will get free admission with a valid military or veteran association-issued ID.
Admission is cash only. The price is $12 for adults and $4 for children ages 5 to 12. Children under the age of 5 are free.
For more information, head to the event's website here.
Copyright 2017 WFSB (Meredith Corporation). All rights reserved.