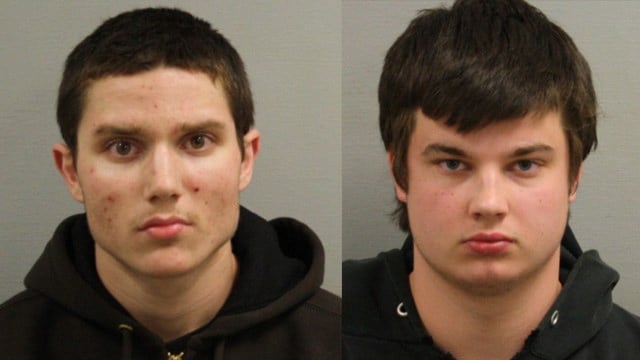 James Ryan Casner and Terence Breck Conlon are accused of setting garbage cans on fire in Bristol. (Bristol police photos)
BRISTOL, CT (WFSB) -
Two young men face charges after police said they set several city-owned garbage cans on fire in Bristol.
Police said they arrested James Ryan Casner, 18, of Cheshire, and 16-year-old Terence Breck Conlon of Bristol.
Shortly after midnight, police said they responded to Shrub Road for the reports of containers on fire.
The trash inside the containers had been set on fire.
No on was hurt.
Eyewitnesses told police that a gray diesel pickup truck with a loud muffler was spotted in the area.
Officers located a Dodge Ram matching that description on King Street.
Casner was arrested and charged with five counts of conspiracy to commit third-degree criminal mischief.
Breck was charged with five counts of third-degree criminal mischief and five counts of third-degree conspiracy to commit criminal mischief.
Copyright 2017 WFSB (Meredith Corporation). All rights reserved.