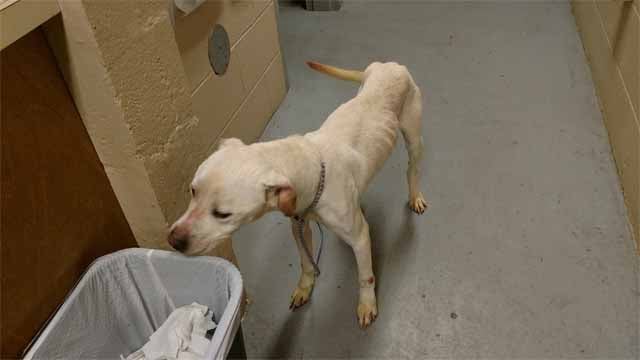 This is one of the dogs who was abandoned in New Britain (New Britain Police for Pups)
NEW BRITAIN, CT (WFSB) -
Officials in New Britain are investigating after two dogs were abandoned in separate locations, one week apart in the city.
Photos of the dogs were posted to the "New Britain Police for Pups" Facebook page on Monday.
The post said both dogs were found to be "extremely emaciated and the brindle was possibly struck by a vehicle after being dumped." They were also soaked in their own urine and feces.
Both of the dogs also appear to have been kenneled for the majority of their lives, with very little nutrition, officials said in the post.
The brindle dog has already been adopted by a veterinary staff member, and the other dog is currently recovering.
It is unclear where the dogs came from, but anyone with information is asked to contact police at 860-826-3079 or email pkeller@newbritainct.gov.
Copyright 2017 WFSB (Meredith Corporation). All rights reserved.