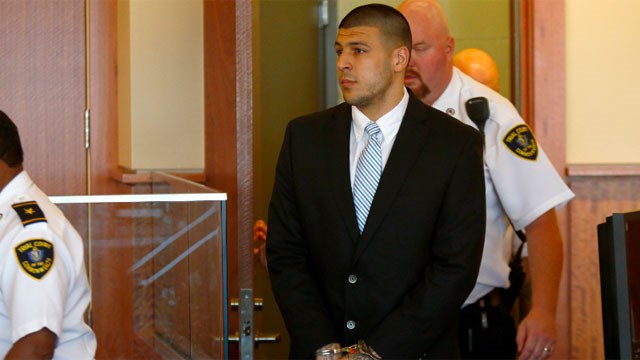 Aaron Hernandez during a previous court appearance. (AP file photo)
BOSTON (AP) -
The jury in the double-murder trial of former NFL star Aaron Hernandez has been sent home for the day after hearing instructions from the judge on the law.
Jurors are expected to begin deliberations Friday after getting final instructions from Judge Jeffrey Locke.
During closing arguments Thursday, prosecutor Patrick Haggan said Hernandez gunned down two men in Boston in 2012 after one of them accidentally bumped into Hernandez at a nightclub and spilled his drink.
Hernandez's lawyer called the state's star witness the real killer. He said Alexander Bradley - a former friend of Hernandez's - shot the men over a drug deal.
Hernandez is also charged with witness intimidation and accused of shooting Bradley in the face to silence him.
Hernandez already is serving life in prison for the 2013 killing of semi-professional football player Odin Lloyd.
Copyright 2017 The Associated Press. All rights reserved. This material may not be published, broadcast, rewritten or redistributed.