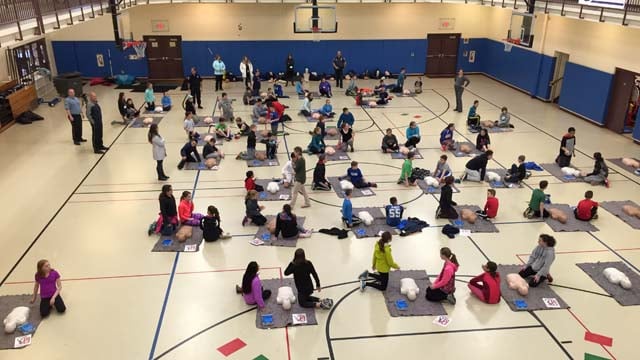 High school students in Old Saybrook learned a new hands-free CPR technique on Thursday. (WFSB photo)
OLD SAYBROOK, CT (WFSB) -
High school students in Old Saybrook were trained in a new life-saving CPR technique.
It's part of a growing nationwide push called "Hands-only CPR."
It was created by the American Heart Association after it said most people in cardiac arrest die because they do not receive immediate CPR.
It said hands-only CPR is like normal CPR, except there's no mouth-to-mouth breathing. The technique was created to cut out steps that could waste time in saving someone's life.
"What we are hopping is that if someone collapses, first call 911 then do the compressions, and you don't have to do all the other steps when they do CPR," said Amneris Torres, Connecticut Children's Medical Center.
Connecticut Children's Injury Prevention Center has worked with nearly 400 students in the state to teach the technique.
For more information on the method, head to the AHA's website here.
Copyright 2017 WFSB (Meredith Corporation). All rights reserved.