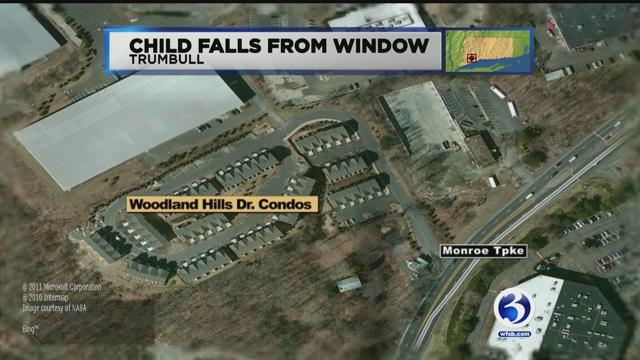 Police said a two-year-old boy fell out of a window at a home in Trumbull on Wednesday evening. (WFSB)
TRUMBULL, CT (WFSB) -
A two-year-old boy fell out of a window at a home in Trumbull on Wednesday evening, according to police.
Officers were called to the reported fall at the Woodland Hills Condominiums, which is located on Woodland Hills Drive, around 6:30 p.m. Upon arrival, officers located the child, who was conscious, on the driveway along with the boy's mother, who made the 911 call.
Police said the unidentified child was rushed to Bridgeport Hospital by Trumbull EMS with non-life threatening injuries.
During their investigation, police determined that the toddler was sitting on the couch with his mother in the living room. The mother told police that the child was near an open window, but there was a screen in it.
The mother told police that she "looked away for a moment and the child apparently stood up and pressed on the screen, which gave way." Police said the child fell down to the pavement, which was 15-20 feet below.
Police said they determined the fall to be accidental, therefore no criminal charges were filed.
Copyright 2017 WFSB (Meredith Corporation). All rights reserved.