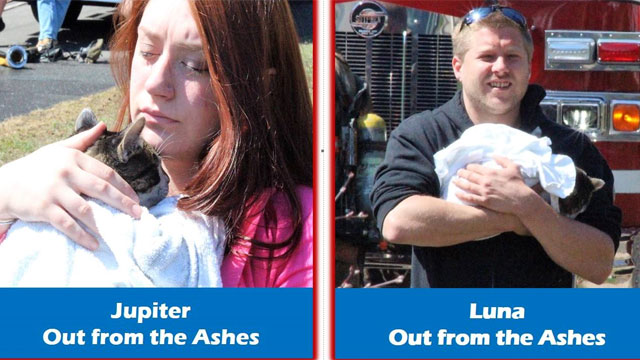 Luna and Jupiter were rescued from a house fire in Wethersfield on Friday morning. (Wethersfield Volunteer Fire Department)
WETHERSFIELD, CT (WFSB) -
Two cats were rescued from a house fire in Wethersfield on Friday morning.
Upon arrival, firefighters at 22 Oakdale St.were informed that there were two cats missing in the home. Firefighters were asked to rescue the pets while the home was on fire. However, it was unclear if the cats were alive or their condition.
Firefighters immediately rushed back into the home and were able to locate Luna and Juniper. The cats were "brought out from the ashes, wet, covered in soot and scared," Wethersfield Fire Captain James Ritter said.
"They were given oxygen at the scene, wrapped in clean towels and returned to their owners. They are currently at the veterinarian being evaluated to be sure that they are ok," Ritter said in a post on the department's Facebook page.
There were no reported injuries to humans.
The fire remains under investigation by the Wethersfield Fire Marshal's Office.
Copyright 2017 WFSB (Meredith Corporation). All rights reserved.