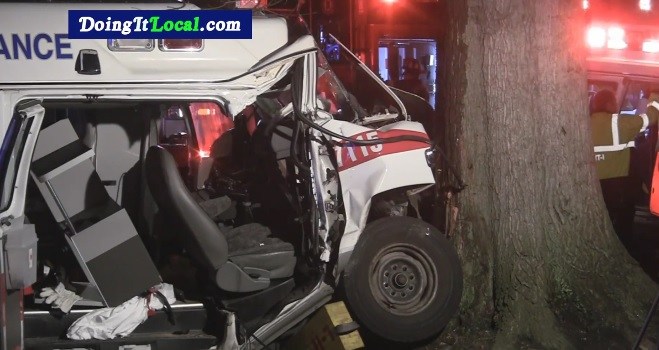 AMR ambulance involved in a crash in Bridgeport. (Courtesy of Doing It Local)
BRIDGEPORT, CT (WFSB) -
An American Medical Response ambulance was involved in a crash in Bridgeport early Saturday morning.
The crash occurred on North Avenue near Wood Avenue just before 2:30 a.m.
Witnesses said a vehicle ran a red light which forced the ambulance to steer to avoid a collision. The ambulance then lost control striking a parked car and then a tree.
One of the AMR staff members needed to be removed from the vehicle by firefighters.
An AMR spokesperson said there were three staff members on board at the time of the crash, 2 EMTs and an EMS student. One of them did suffer a fractured leg but they are all expected to recover.
Bridgeport police were able to locate the vehicle which fled the red light a short time later, however, it is not known if the driver will face any charges.
Officials said the ambulance was not carrying a patient at the time of the crash.
Copyright 2017 WFSB (Meredith Corporation). All rights reserved.