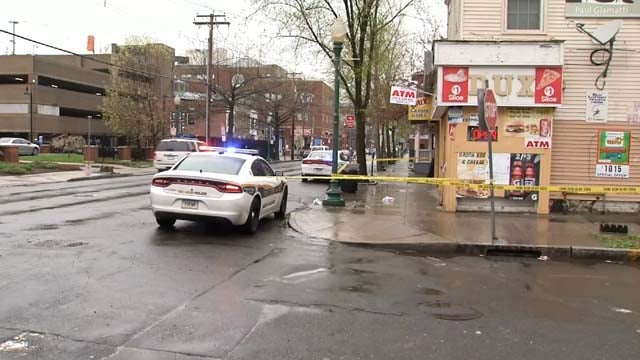 Two people were hit by a car in New Haven on Tuesday (WFSB)
NEW HAVEN, CT (WFSB) -
New Haven police are investigating after two people were hit by a car on Tuesday afternoon.
It happened a little before 3:30 p.m. in the area of Chapel and Kensington streets, in front of Dux Market.
Police said it appears this was an intentional hit-and-run. Eyewitnesses say it stemmed from an argument between three men.
One man reportedly got into a vehicle that was parked nearby and drove it onto the curb where the two men were standing.
The victims were taken to Yale-New Haven Hospital with non-life threatening injuries.
"It's very scary, it brought tears to my eyes, because it could have been life threatening," said Jeffery Jones, who is breathing a sigh of relief after learning a young man he thinks of as family, is going to recover, after being struck by a car. "When I looked around the corner that man lying there all broke up and I noticed my nephew sitting there on the side all messed up. Both of them were conscience, but he was really bad off, my nephew, I think he just broke his leg."
The car in question is a light-colored older model Subaru wagon. The impact knocked the passenger side mirror off the car.
Anyone with information should contact New Haven police.
Copyright 2017 WFSB (Meredith Corporation). All rights reserved.