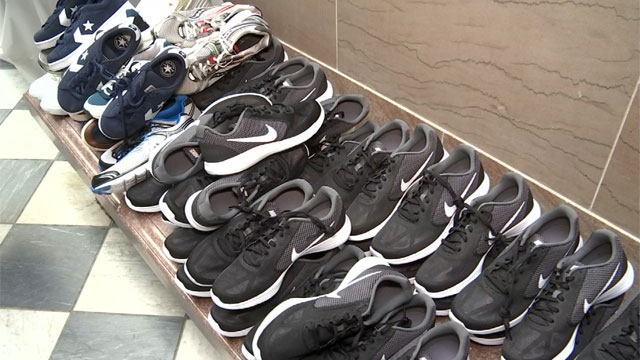 A many of those in need in Hartford will be getting a brand new pair of shoes. (WFSB)
HARTFORD, CT (WFSB) -
Hundreds of homeless and those struggling in Hartford were able to put a fresh foot forward this morning.
They have paired up with a brand new pair of shoes all thanks to a large community effort.
The shoes were collected through donations and drives run by Fleet Feet of West Hartford along with the Hartford Police Department and other groups.
In addition to getting a new pair of shoes, all those who came this morning were able to get a foot exam and evaluation. Dr. Lynn LeBlanc, a doctor with Connecticut Podiatric Medical Association said many of that seen today are diabetic patients.
"We worry about them getting ulceration, the risk of amputations," LeBlanc said.
Those who attended the event were also able to get socks and other essentials that they may often forego to afford food or other needs.
On Saturday, the organization helped 480 people. They also received 75 rain checks, which means the organization will go shopping and get shoes for those people.
Donations are still being accepted online, each $25 donation purchases a pair of shoes for someone in need. If you want to learn more or are interested in donating you can visit Footwear With Care's website.
Copyright 2017 WFSB (Meredith Corporation). All rights reserved.