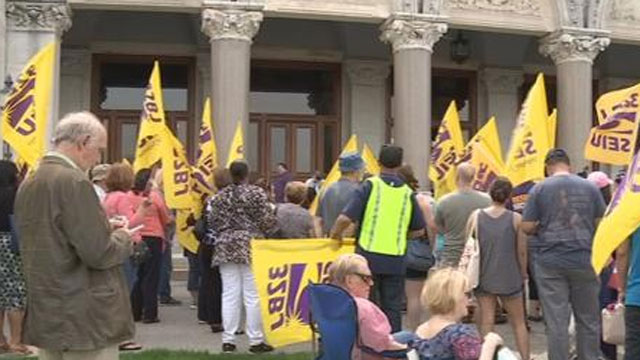 A huge immigrants' rights rally was held on Saturday afternoon at the State House in Hartford. (WFSB)
HARTFORD, CT (AP) -
A Hartford May Day rally was attended by hundreds of people including immigrants, top state officials and labor leaders on Saturday afternoon.
They gathered at the state Capitol to call for an end to the Trump administration's deportation policy and an increase in the minimum wage to $15 an hour.
The "Here to Stay" immigrants' rights rally started at 1 p.m. Saturday. It's among similar events in cities across the country over the weekend to mark May Day on May 1, a traditional day for workers' rights demonstrations.
Organizers say immigrants and Gov. Dannel P. Malloy will be among the speakers. Music and other entertainment are planned.
Trump has aggressively pursued immigration enforcement, and the government has threatened to withhold funding from so-called sanctuary cities that limit cooperation with federal immigration authorities.
Copyright 2017 The Associated Press. All rights reserved. This material may not be published, broadcast, rewritten or redistributed.