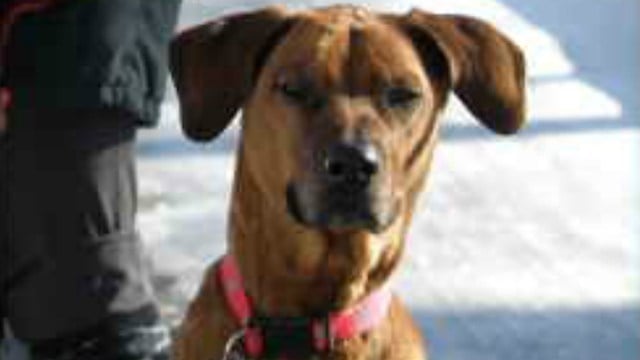 Marley was attacked by another dog on a hiking trail in East Haddam on Sunday, according to her family. (Family photo)
EAST HADDAM, CT (WFSB) -
The family of a Rhodesian ridgeback is looking to remind dog owners to control their pets and push a need for vicious dog ordinances.
The Davis family said their dog Marley was brutally attacked by a pit bull on the Hatch Lot Trail in East Haddam on Sunday morning.
They exclusively spoke with Eyewitness News earlier this week.
Gregg Davis, Marley's owner, said he was left with $5,000 worth of out-of-pocket medical bills for life-saving treatments.
The family sent Eyewitness News a statement on Wednesday.
"[We] just want to thank [the WFSB staff] for helping get Marley's and Gregg's story out to public and to remind dog owners about their responsibility to have control of their dog at all times and need for viscous dog ordinances," the Davis family said. "Marley is home very tired and very sore. Her wound drains come out Thursday and she has two to three weeks of slow recovery."
Geoffrey Davis, Gregg Davis's brother, said he set up a GoFundMe account to help pay for Marley's bills.
Anyone looking to donate can do so here.
East Hampton's animal control officer cited the pit bull owner for not having their dog confined and being unlicensed.
Copyright 2017 WFSB (Meredith Corporation). All rights reserved.