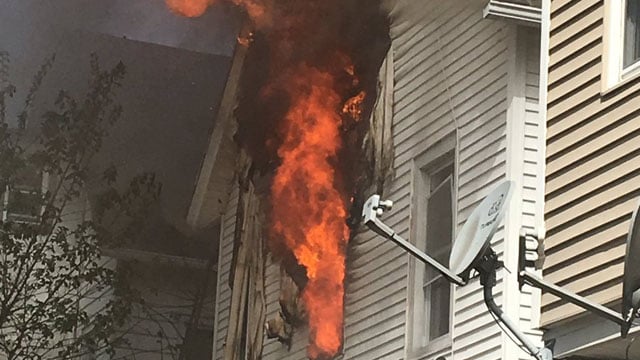 Firefighters are fighting a fire in Lincoln Street in Hartford. (Hartford Fire Dept. photo)
HARTFORD, CT (WFSB) -
Firefighters are on the scene of a three-family house fire in Hartford.
According to Capt. Raul Ortiz of the Hartford Fire Department, the fire erupted on Lincoln Street on Thursday morning.
Ortiz said attack lines were put in place and a search was conducted.
However, the fight quickly turned into a defensive effort and all companies were ordered out of the building.
The fire was said to be on all floors of the home when firefighters arrived. Smoke could be seen from Interstate 91.
They attacked the fire from all angles and were able to stop it from spreading to other homes.
Eyewitness News learned that at least two adults and five children lived on the first floor. They are all ok, according to officials.
The cause of the fire has yet to be determined.'
To see pictures from the fire, click here.
Copyright 2017 WFSB (Meredith Corporation). All rights reserved.