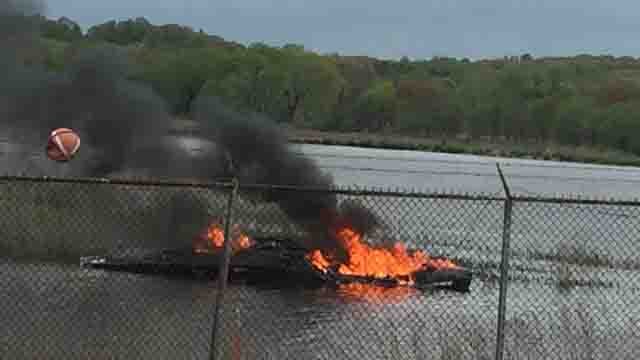 Crews responded to a boat fire in Stratford on Tuesday (DEEP)
STRATFORD, CT (WFSB) -
Crews responded to a boat fire near Sikorsky Aircraft property in Stratford on Tuesday afternoon.
The fire was reported just after 1 p.m., and officials said there were a reported 200 gallons of gasoline on board the 33-foot boat.
Officials from the Department of Energy and Environmental Protection said the bulk of the gasoline was consumed by the fire, and the boat was removed from the water.
"DEEP's Emergency Response Unit (ERU) will work with the salvage company to ensure the fuel, if any remains, is handled appropriately," DEEP officials said.
Officials said the boat was being operated by Thomas White, who is an employee of Beacon Point Marina.
He was giving the boat a "sea trial," officials said, but it is unclear at this time what caused the fire.
No injuries were reported.
Stratford Fire Department, Sikorsky Aircraft Fire Department and State Environmental Conservation (EnCon) Police responded to the fire.
Copyright 2017 WFSB (Meredith Corporation). All rights reserved.