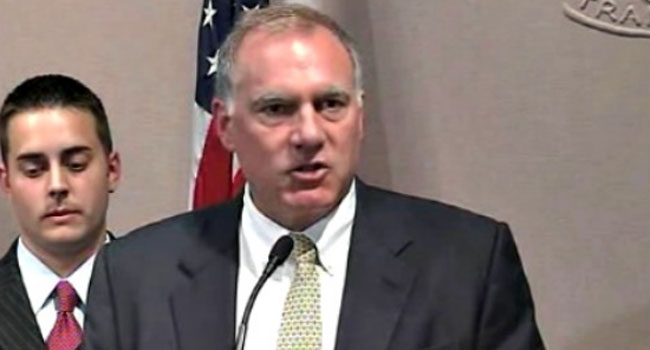 Connecticut Attorney General George Jepsen. (WFSB file photo)
HARTFORD, CT (WFSB) -
Connecticut's attorney general made it clear on Thursday that he does not intend to run for governor.
Attorney General George Jepsen made his announcement on radio station WPLR's morning show with hosts Chaz & AJ.
Jepsen is currently serving his second term as attorney general.
"I believe very strongly that the responsibilities of the Office of the Attorney General are of the greatest importance," Jepsen said. "My family and I have considered very carefully the decision of whether to explore a campaign for governor. Any campaign, but especially a gubernatorial campaign, is a commitment not to be taken lightly, and I am lucky to have always had the support of my family for my career in public service. But ultimately, it is my respect for the Office of the Attorney General that has led me to the decision to end any speculation today and announce that I will not be entering the 2018 gubernatorial race."
Jepsen said that with the current state of the country, the work his office does is more critical than ever. He called it work that deserves his full attention.
"My office is leading more than 40 states in an investigation we launched nearly three years into what we allege is widespread illegal price fixing in the generic drug industry," he said. "We are deeply involved in challenges to the damaging and unlawful actions that are already streaming from the Trump White House – and that are not likely to ease anytime soon. I fear that I would be doing a disservice to the office and to my constituents if I were to divert my focus."
Jepsen said he would make a decision over whether or not he'd seek reelection for his current office in the coming months.
Copyright 2017 WFSB (Meredith Corporation). All rights reserved.