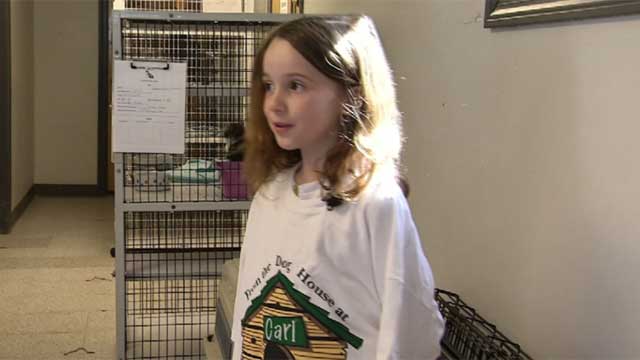 Eloise Mackell is helping the Milford Animal Control by selling her artwork. (WFSB)
MILFORD, CT (WFSB) -
A second-grader is helping the Milford Animal Control by selling her artwork.
Seven-year-old Eloise Mackell hand-painted several dozen pictures and then sold them to family and friends.
"They were paying like $10, $4, like $5," Eloise said.
Eloise said she knew what to do next.
"I just thought in my mind, I know there are a lot of animals here," Eloise said. "I thought maybe I could buy some toys, and buy some food!"
All those donations added up to about $500. Eloise managed to buy supplies and gave the leftover cash to the Milford Animal Control.
"Gives you a lot of hope about the future generation," Milford Animal Control Officer Marc Ruby said.
"Proud as a parent but we're hoping too that it inspires other kids and parents to help out especially in our community," Eloise's dad Glenn Laudenslager said.
The Milford Animal Control told Eyewitness News this is their busy time of year. A lot of feral cats are having litters, so they were even more appreciative of the help.
Copyright 2017 WFSB (Meredith Corporation). All rights reserved.