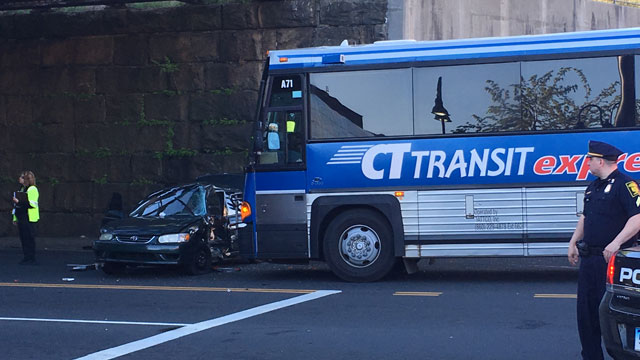 A car and Transit bus were involved in a crash in Hartford on Tuesday morning. (WFSB)
HARTFORD, CT (WFSB) -
An intersection in Hartford and off-ramp for Interstate 84 were closed after a crash involving a Transit bus on Tuesday morning.
The area of Spruce Street and Asylum Avenue in Hartford was closed after the two-vehicle crash around 6 a.m. Drivers were still dealing with a partial closure and delays on Asylum Avenue around 8 a.m.
The male driver of the Transit bus was OK, according to a Dattco spokesman. There was no word on the injuries suffered by the other people involved in the crash.
According to a Dattco spokesman, it is a federal law by the Federal Transit Authority that a bus driver involved in a crash be screened for drugs and alcohol. They are removed from service pending the results of the tests, anywhere from 24 to 72 hours.
A Department of Transportation spokesman said video evidence shows a car hitting two vehicles while exiting onto the ramp. The DOT said it appears that car tried to make an illegal right turn and crossed into the path of the bus.
Eyewitness News has reached out to the Hartford Police Department for more details on the crash.
The off-ramp for exit 48A to the eastbound side of I-84 was also closed due to the crash, but the off-ramp reopened around 8 a.m.
The crash remains under investigation.
Copyright 2017 WFSB (Meredith Corporation). All rights reserved.