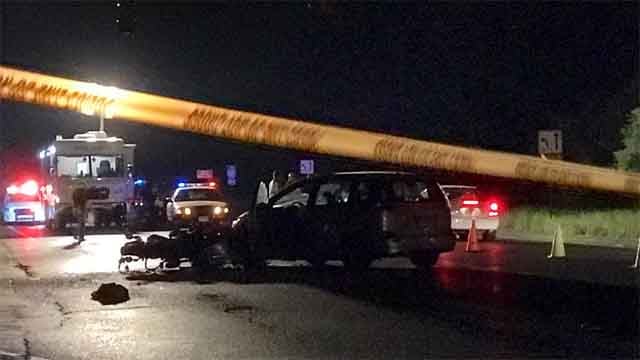 Authorities are investigating a deadly motorcycle crash in Cheshire (WFSB)
CHESHIRE, CT (WFSB) -
A man died after a motor vehicle crash involving a motorcycle in Cheshire on Thursday evening.
Jeffrey and Susan Desiderio, of Prospect, were riding their motorcycle on Highland Avenue, also known as Route 10, around 6:45 p.m. when police said they collided with a car near the Interstate 691.
Jeffrey Desiderio was rushed to St. Mary's Hospital where police said he died from injuries suffered in the crash on Saturday. Susan Desiderio was also taken to a nearby hospital with non-life-threatening, police said.
The driver of the car was Southington resident Christina Parrott-McCarty. Police said Parrott-McCarty did not report any serious injuries during the crash and was cooperating with investigators.
The Cheshire Police Department Traffic Division along with members of the Central Naugatuck Valley Regional Accident Investigation Team are investigating the cause of the crash.
Copyright 2017 WFSB (Meredith Corporation). All rights reserved.