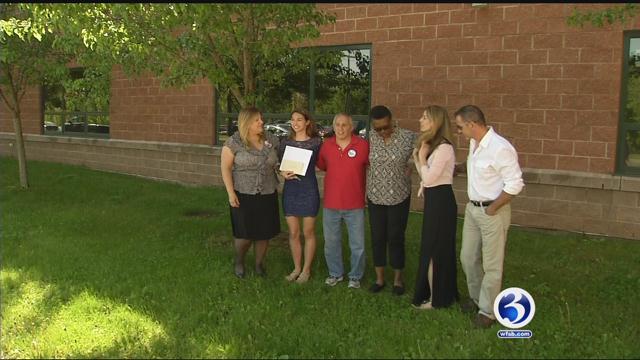 Cheerleading scholarship was given in honor of Nina Poeta. (WFSB)
MIDDLETOWN, CT (WFSB) -
A Seymour teenager is living on through a scholarship fund that gives money to a Connecticut cheerleader in her honor.
Dorie and John Poeta gave away a $1,000 scholarship on Friday to Middletown senior Alyssa Salafia.
It's in honor of their daughter Nina, who died in 2014 at the age of 17, after a courageous battle with a brain tumor.
Salafia just made the cheerleading squad at Central Connecticut State University where she'll attend next year.
Salafia told Eyewitness News this award was a big surprise and she's thrilled to be honored.
"I got a call. Well, actually my mom got a call a few days ago that said I was chosen," Salafia said. "But I thought it was just a school scholarship. So I had no clue."
"I just feel like Nina has touched so many lives and we're just never going to know where the ripple is going to end and I feel like she left a trail of glitter," Dorie Poeta said.
This is the second year that the Poeta family gave the scholarship award to a cheerleader.
When Nina was sick, the cheerleading community rallied around her and her family raising tens of thousands of dollars to help pay for medical bills.
Copyright 2017 WFSB (Meredith Corporation). All rights reserved.