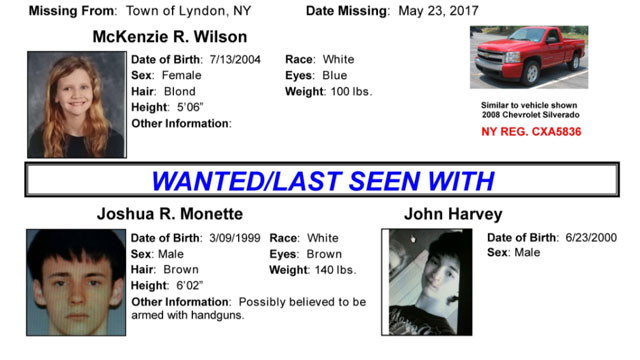 Machias has activated the New York State AMBER Alert and is investigating a child abduction that occurred in Lyndon, New York. (New York State Police)
LYNDON, N.Y. (AP) -
New York State Police have issued an Amber Alert for a 12-year-old girl who they say was abducted by two male teenagers in Cattaraugus County.
Troopers say McKenzie Wilson was last seen in the rural town of Lyndon at 5 a.m. Tuesday. Authorities believe she's with an 18-year-old man and a 16-year-old boy who may be armed with handguns and driving a stolen red pickup truck.
Police say McKenzie could be in imminent danger. She's 5-feet-6 inches tall and has blond hair and blue eyes.
Details of the alleged abduction haven't been released.
Lyndon is located about 50 miles southeast of Buffalo.
For the latest, click here.
Copyright 2017 The Associated Press. All rights reserved. This material may not be published, broadcast, rewritten or redistributed.