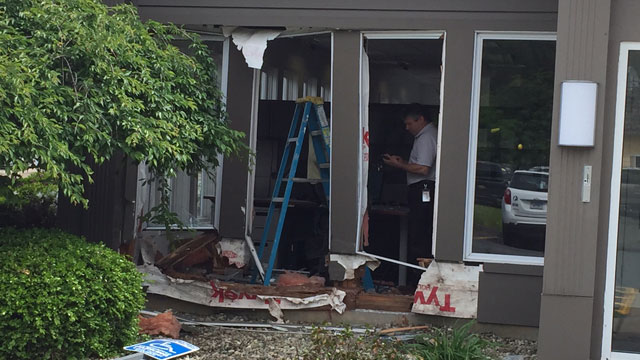 A motor vehicle crashed into a bank in Vernon on Tuesday. (WFSB)
VERNON, CT (WFSB) -
A motor vehicle crashed into a bank in Vernon on Tuesday afternoon, police said.
A 70-year-old man was attempting to pull into a handicap parking spot at the Webster's Bank on Talcottville Road around 1:30 p.m. However, police said the unidentified man hit the gas instead of the brake and crashed into the building.
Police said the Webster's Bank sustained "significant structural damage." The Vernon Building Department came out and determined that the bank would be closed for the rest of Tuesday.
The man reported no injuries to police.
There were no charges filed against the driver at this time.
Copyright 2017 WFSB (Meredith Corporation). All rights reserved.