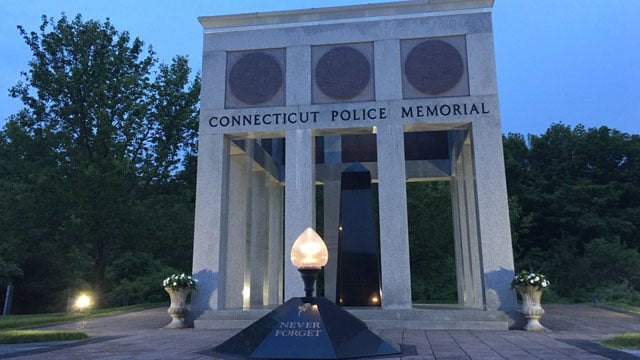 The Connecticut Law Enforcement Memorial. (WFSB)
MERIDEN, CT (WFSB) -
Officers who were killed in the line of duty were honored during a ceremony at the Connecticut Police Academy in Meriden on Wednesday.
Several new names were added to the academy's law enforcement memorial. It's the 29th year they've honored all 140 Connecticut law enforcement officers killed in the line of duty since 1855.
Family, friends and fellow officers all in attendance as two names were added to the Connecticut law enforcement memorial -- Detective William Hull of the Danbury Police Department and Ralph Young, a motor vehicle inspector.
"If you've given your life in the line of duty for a law enforcement agency here in Connecticut, we do not forget that and we come together annually to recognize those officers and their families," said Lt. Robert Palmer, CT State Police Training Academy commanding officer.
The names of the officers from across the state are etched in stone. It is a constant reminder of the ultimate sacrifice that law enforcement officers make on behalf of all of us.
Copyright 2017 WFSB (Meredith Corporation). All rights reserved.