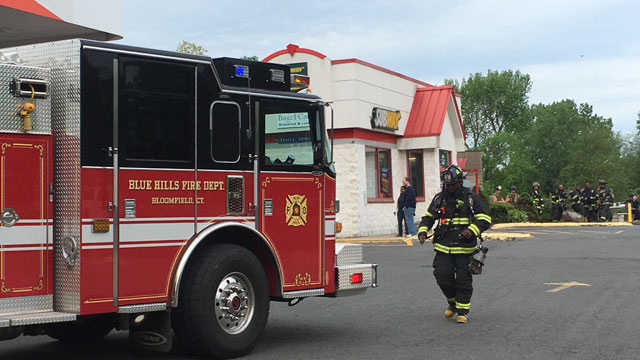 DEEP and Blue Hills firefighters were on scene at Citgo on Blue Hills Avenue after a CO2 leak on Wednesday. (WFSB)
BLOOMFIELD, CT (WFSB) -
Employees were evacuated from a gas station in Bloomfield after a carbon dioxide leak on Wednesday morning.
Members of the Connecticut Department of Energy and Environmental Protection and Blue Hills Fire Department were called to Citgo on Blue Hills Avenue around 8:45 a.m.
A CO2 tank malfunctioned and leaked into the basement, according to Blue Hills Fire Chief Robert Farmer.
There were no reported injuries. Farmer said employees were evacuated as a precaution after some said they experienced dizziness, but they were expected to be OK.
"It depreciates the oxygen levels so that's one reason why they were complaining of light-headedness and dizziness," Farmer said. "My initial crews that went in did find some oxygen levels that were lower than normal."
The building was evacuated for a short time as firefighters ventilated it. Farmer said a technician was called to the scene and the tank was repaired.
Copyright 2017 WFSB (Meredith Corporation). All rights reserved.