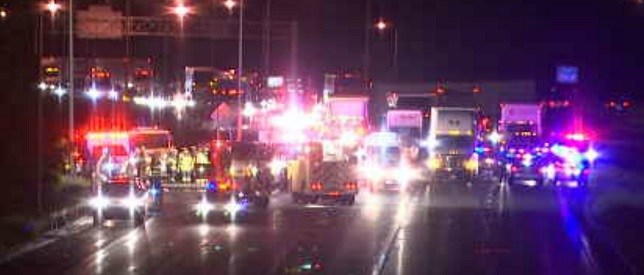 Emergency crews blocking I-91 southbound Friday night in Rocky Hill after a deadly crash. (WFSB)
ROCKY HILL, CT (WFSB) -
Two people were killed in an overnight crash along Interstate 91.
The crash occurred along I-91 southbound near exit 24 shortly after 10:30 p.m. Friday.
According to State Police a tractor trailer was stopped in heavy traffic in the center lane of I-91 southbound near exit 24 in Rocky Hill. Police said an earlier disabled vehicle in the area lead to the traffic delays.
Witnesses told police that a vehicle then approached the area at a high rate of speed. That vehicle struck the back of the tractor trailer which was stopped. It spun out of control before coming to a rest on the right shoulder.
The driver and passenger in the vehicle were both pronounced dead at the scene. Police have identified them as 25-year-old Jose Diana and 21-year-old Mark Nunez, both of Middletown.
Police said the driver of the tractor trailer, 35-year-old Eric Davis of Goldsboro, OH was not injured. His passenger, 29-year-old Robert Lemelin of Las Vegas, NV was taken to Hartford Hospital with minor injuries.
State Police closed the highway for several hours, it was reopened around 3 a.m .Saturday.
Copyright 2017 WFSB (Meredith Corporation). All rights reserved.