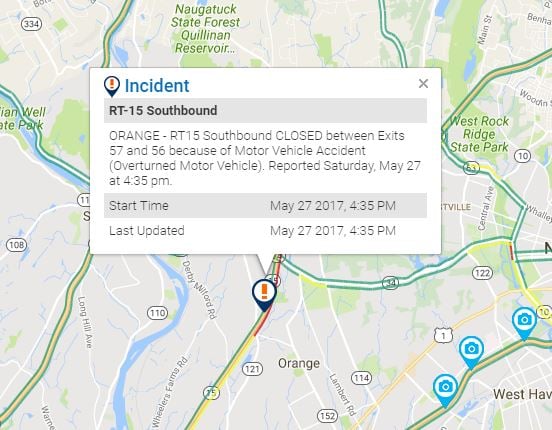 Courtesy of the CT DOT
NEW HAVEN, CT (WFSB) -
A Stratford man was killed in a two car crash with a rollover and ejection on Route 5/15 Southbound in Orange on Saturday.
Police identified the victim as 44-year-old, Stratford resident as Michael Zawadski.
Police said Zawadski was traveling southbound on Route 5/15 in Orange in the right lane when 22-year-old Milford resident, Taylor Madison Stanford, traveling in the left lane lost control of her car and struck Zawadski causing his car to roll over, eject him, and came to an uncontrolled final rest down the right hand embankment. Stanford's car struck a wire rope guardrail, and partially ejected her upon impact.
Police said Stanford was taken to Yale New Haven Hospital for non-life-threatening injuries. Police said Zawadski was taken to the Office of the Chief Medical Examiner in Farmington.
Police said the accident took place at 4:15 p.m. and closed both lanes of travel until 8:50 p.m.
Copyright 2017 WFSB (Meredith Corporation). All rights reserved.