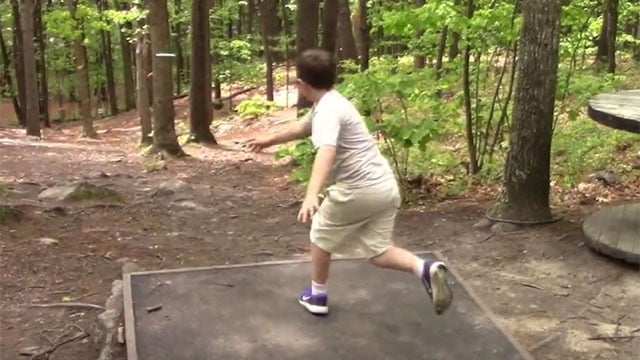 Wyatt Mahoney nails an 'ace' during a disc golf competition in Massachusetts. (Kids Disc Golf Facebook photo)
GLASTONBURY, CT (WFSB) -
A 7-year-old boy from Glastonbury has become an internet sensation after his disc golf attempt was caught on camera.
Wyatt Mahoney nailed a 210 foot 'ace' during a recent competition in Massachusetts.
The shot helped him win his division, according to the group.
The video was recorded by Jeremy Draeger and uploaded to the Kids Disc Golf Facebook page and has been shared thousands of times.
Wyatt is a member of Kids Disc Golf and is on his way to the Massachusetts disc golf championship.
The organization was hoping the shot would make ESPN Sportscenter's Top 10.
On July 27, Eyewitness News learned that Mahoney won the 2017 PDGA Disc Golf world championships in his division. He was the only competitor from CT.
Copyright 2017 WFSB (Meredith Corporation). All rights reserved.